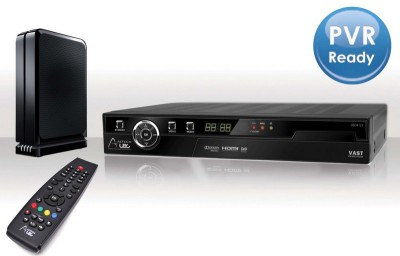 This new VAST reciever will be able to record,  stop,  playback, pause, fast forward and rewind
It was released on November 16th
By simply plugging in an external self powered usb hard drive and using the new VAST remote,  you are ready to go.
For anyone who already has a UEC 4121 VAST DECODER there will also be an upgrade coming soon.
TO ORDER THIS PRODUCT  PLEASE CLICK HERE
——————————————————————————————————-
ON SALE NOW WAS $ 299 ………………………
VAST -SATELLITE TV AUSTRALIA WIDE
COVERAGE AREA
FREE TO AIR TV
Viewer Access Satellite Television service otherwise known as VAST
Finally the wait is over and it has been well worth the wait.
Vast satellite TV is the
High Definition Television Service
That has been needed for people in remote areas black spot areas and poor reception areas.
If you can't get quality TV through a standard TV antenna then VAST is for you.
Australians who can't receive digital TV services from transmission towers in their area will be able to access the full range of digital TV programming from the new digital TV satellite service.
The Viewer Access Satellite Television (VAST) service will be operated by Southern Cross Media and Imparja, and is funded by the Australian Government. It will ensure access to free-to-air TV for viewers in the Remote Central and Eastern Australia licence area, and those in regional and metropolitan areas who are unable to receive their local TV services terrestrially.
This includes standard definition programming broadcast by Southern Cross Media and Imparja, sourced from the Seven, Nine and Ten commercial networks and their new digital channels GO!, 7TWO and ONEHD, as well as all of the ABC and SBS channels, including ABC2, ABC3 and SBS TWO.
The VAST service will also provide high definition channels and a dedicated local news channel in addition to state-based ABC and SBS news services on their respective channels.
The first viewers to have access to VAST will be in the Mildura/Sunraysia region which is the first region to switch to digital only free-to-air television on 30 June 2010.
VAST will cover eastern Australia and operate in northern and southern time zones.
The satellite service for viewers in Western Australia is under negotiation with Prime and WIN Television.
Find out more information about VAST, including technical specifications here
Eligible viewers will be able to activate their access 'smart cards' online by going to www.mysattv.com.au
The channels on offer depend on what part of Australia that you live in.
But Vast Will Provide The Same Number of channels that People in capital cities can receive
including ONE HD (SPORTS), 7TWO, GO, AND MORE.
ALL READY HAVE OPTUS AURORA?
If your current Aurora system is working properly, and you want to upgrade
to VAST, it is only a matter of buying a VAST receiver and connecting it to
current working Aurora dish. It should load the channels immediately
providing the LNBF setting in the receivers matches your LNBF on
the dish. The standard setting is 10700. If your dish LNBF is 11300 you
will need to change the LNBF setting in the VAST receiver to match
your LNBF value.
Please note it is recommended that you use a 10700 LNBF as it is the defalt setting for VAST. All VAST services may not be available to you unless you upgrade to a 10700 lnb To upgrade check out our Vast Accessories further down the page !!!!!!!!!!!!!!!!!!!!!!!!!!!!!!!!!!!
CLICK HERE TO PURCHASE
UEC DSD4121 VAST Certified HD Satellite receiver $ 269
CLICK TO PURCHASE

This is a HD satellite receiver specifically made for the VAST satellite service.
It has HDMI and Component outputs for high quality connectivity
to your television set.
The VAST service covers all of Australia and includes ABC SD channels,
SBS SD channels, 7, 9 and 10 SD channels including 7 TWO and GO,
ABCHD, SBSHD, ONEHD, 7HD and 10HD.
VAST DO IT YOURSELF KIT
CLICK TO PURCHASE
YES OUR DO IT YOURSELF KIT IS THE SAME PRICE AS A METRO COMPLETE INSTALL BUT IT INCLUDES FREIGHT TO YOUR LOCATION, A SIGNAL FINDER WORTH $ 129.95 AND AN INSTRUCTIONAL DVD
OUR DO IT YOURSELF KIT INCLUDES
UEC DSD4121 VAST SATELLITE RECIEVER
1 WALL PLATE
20 METERS OF CABLE WITH CONNECTORS
65/85 HIGH QUALITY ZINK COATED DISH
10700 LNBF
2 LEG GAL GUTTER MOUNT OR TIN ROOF MOUNT
1 DIGITAL SIGNAL FINDER FOR QUICK AND EASY ALIGNMENT
1 Instructional DVD
ALL INSTRUCTIONS AND PERSONAL ONE ON ONE ADVICE AS REQUIRED.
COMPLETE VAST SYSTEM INCLUDING INSTALLATION $ 600
CLICK ABOVE TO PURCHASE
MELBOURNE or SYDNEY ONLY OTHER AREAS CONTACT US
INCLUDES
UEC DSD4121 VAST SATELLITE RECIEVER
1 WALL PLATE
15 METERS OF CABLE WITH CONNECTORS
65/85 HIGH QUALITY ZINK COATED DISH
10700 LNBF
2 LEG GAL GUTTER MOUNT OR TIN ROOF MOUNT
—————————————————————————————————————-
VAST ACCESSORIES
10700 LNBF SUIT VAST $ 27 CLICK HERE
10700 DUAL OUTPUT LNBF SUIT VAST $ 49 CLICK HERE

10700 QUAD OUTPUT LNBF SUIT VAST $ 72 CLICK HERE

2MT HDMI CABLE SUIT VAST $ 46 CLICK HERE

2 MT COMPOSITE CABLE SUIT VAST $ 21 CLICK HERE

1.5 MT OPTICAL AUDIO CABLE SUIT VAST $ 35 CLICK HERE

SATELLITE SIGNAL FINDER SUIT VAST $ 129.95 CLICK HERE
12 VOLT ADAPTER SUIT VAST $ 40 CLICK HERE