Free to air Digital Satellite Receiver
Blind Scan
Great for Ku Band and C-band Motorised Satellite TV Systems
Standard Definition
Adjustable RF Out
RED WHITE YELLOW Composite output
Cheap but fantastic value for money.
———————————————————————————


SRT 466 SERIES RECIEVER WITH CARD SLOT AND USB RECORD FUNCTION
FEATURES
• DVR ( DIGITAL VIDEO RECORDER)  Functions via USB
External Mass Storage
Device, Including Timer
• Time Shift, Record &
Playback
• USB 2.0 Host for MP3
Playback, JPEG Viewing
and Firmware Update
• Super Sensitive Tuner
• Embedded CONAX CAS7
• 10,000 Programmable Channels
• DVB, MPEG-2 Compliant
• DiSEqC 1.2 and USALS Compatible
• Downloadable Software Upgrades
• Data Transfer Between Units
• Teletext
• Electronic Program Guide
• Parental Lock
• 16 Favorite Channels Groups
• Channel Sorting by Alphabet,
Transponder or CAS
• OSD in 10 Languages
• Games with Stereo Sound
• Component: Y / Pb / Pr Video Outputs
• Coaxial S/PDIF Digital Audio Output
• Multi Picture Display and Zoom
• Colour Control
• Virtual Calculator
• Auto Voltage (AC 90~250V) SMPS
PRICE INCLUDES SHIPPING    $ 199.95 CLICK HERE TO BUY NOW
————————————————————————————  
The Satpro 3000HD satellite decoder is a low cost receiver ideal for those wishing to watch free to air or paid satellite TV programs from both C and KU band satellite broadcasts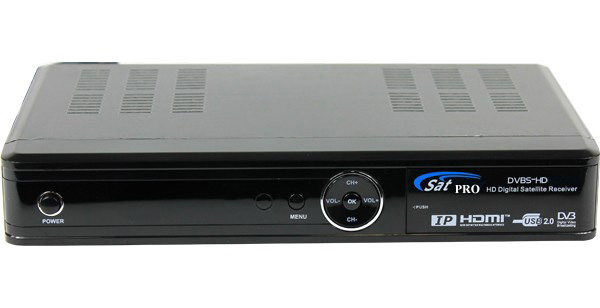 The front of the 3000hd features a single card reader slot s. The card reader can then accept an active provider smartcard so access to encrypted services can be permitted. Also on the front panel and rear a USB 2.0 host connection allows the user to connect a USB memory stick or external USB drive. Programs can then be recorded to the drive for viewing at a later time. Furthermore, the 3000hd supports Timeshift, FF, REW, PAUSE and PLAYBACK of the recorded programs. Being a single tuner, the 3000hd is capable of recording one program only. On the subject of recording, the 3000hd features 30 timers that can be set to record ONCE ONLY, DAILY and WEEKLY so there is no need to set a timer for a program that is shown at the same time on the same day each week. And, with 30 timers, that's more than enough to record all your favourite shows. The front display panel shows the channel number of the current program as well as recording state.
On the rear of the unit, there are composite connections to connect in SD to a standard TV, twin SCART connections, HDMI output (preferred method) stereo RCA and digital audio out to connect to a dolby digital audio amplifier. LNB input and loop through are standard.
The 3000 hd is also MPEG2 and MPEG4 compliant. MPEG4 is industry standard for best compression of digital video broadcasting (DVB). It Is expected over the coming years that ALL satellite TV broadcasts will be compressed using MPEG4 standards.
———————————————————————————–

SRT 49 series High Deff Satellite Receiver
WITH CAT 5 DATA CONNECTION CAN SHARE DATA
Description:
* Full High Definition Digital supports video resolution 1080p/i
/720p/576p/i
* Receives Free to Air Satellite channels
* SVBS-2, MPEG-2/4 Compliant
* DVR Function via USB External Hard Drive (sold separately)Hard Drive
required in Fat32 Format.
* Simultaneous Recording and Playback, Time Shift; pause & rewind Live TV
* EPG with Easy One-Touch Recording
* Multimedia Support via USB for JPEGS, MP3, DivX, AVI, VOB and more.
* USB 2.0 Host firmware updates
* Embedded Conax CAS7 x 2
* HDMI, Component, Composite video Outputs
* Advanced Blind Scan
* Parental Lock
* MEPS Compliant
Connections:
Has multiple connection types:
* HDMI
* Component
* Composite/ RCA
* Digital Optical S/PDIF
————————————————————————————

UEC DSD4121 VAST Certified HD Satellite receiver
$279.00
UEC DSD4121 VAST Certified HD Satellite receiver
This is a HD satellite receiver specifically made for the VAST satellite service.
It has HDMI and Component outputs for high quality connectivity
to your television set.
The VAST service covers all of Australia and includes ABC SD channels,
SBS SD channels, 7, 9 and 10 SD channels including 7 TWO and GO,
ABCHD, SBSHD, ONEHD, 7HD and 10HD.
The receiver comes complete with smart card and this card can only be
used with the VAST receiver it comes in. It is not transferable, and
will not work in any other Irdeto receiver..
For more information on VAST CLICK HERE The VAST
(Viewer Access Satellite Television) signal is on Optus C1/D3 satellite.
If your current Aurora system is working properly, and you want to upgrade
to VAST, it is ony a matter of buying a VAST receiver and connecting it to
current working Aurora dish. It should load the channels immediately
providing the LNBF setting in the receivers matches your LNBF on
the dish. The standard setting is 11300. If your dish LNBF is 10700 you
will need to change the LNBF setting in the VAST receiver to match
your LNBF value.
Presently only viewers in the Sunraysia Victoria and Wilmington and
Melrose SA areas are being activated for the commercial services.
ABC and SBS will activate automatically once the receiver is connected
to a dish and receives and adequate signal.
Now Delivering!!! Full service commences 15th December 2010. UEC has increased price from 1st November Call Now for remaining unallocated stock at old price. Demand is very high! Order now to secure delivery.
Key Features
The DSD4121 high-definition set-top box is specifically designed for the
Australian VAST service delivering industry leading quality and
performance at market leading pricing.
The DSD4121 employs a new generation STi7111 microprocessor
incorporating the latest secure processor technology,and is
equipped with an HDMI interface,component video, stereo
audio outputs with digital audio S/PDIF, and a USB 2.0 port.
• STi7111 Secure Processor Core
• MPEG-2/4 HD compliant
• DVB-S2 Front end
• F-Type Satellite input
• IRDETO secure silicon conditional access
• 450 MHz core processor
• Over-the-Air secure software download
• HDMI output
• Component video output
• Coaxial S/PDIF digital audio output
• Optical digital audio output
• Dolby digital audio
• Subtitles
• Stereo audio outputs
• USB 2.0 interface for firmware upgrade only
• 8 Day electronic program guide
• Compliant with Australian VAST services